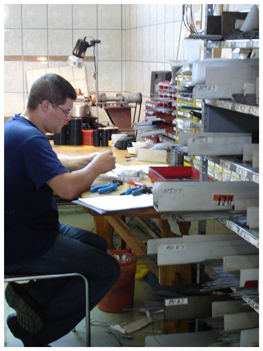 GUMAPLAST VP bases its success, reputation and competitive advantage on professional and fair customer relations, in which product quality, timely delivery and a wide range of products guarantee our capability to meet customers' demands.
GUMAPLAST VP wants to implement all its values and convictions, namely a partnership relation with buyers, a responsible and professional attitude of our employees towards their tasks and obligations and a respectable image of our company in the area, as a basic part of all process activities. We wish to achieve these principles and values not only through an implemented, documented and sustainable quality system, but also through the devotion of all the employees, at the same time aspiring to continuous quality system improvement and securing the following goals:
• Fulfillment of the customers' requirements.
• We aspire to develop long term partner and amicable relations with our customers, respecting their requests to the utmost degree.
• Rationalization, improvement and efficient control of all the basic processes and corresponding results.
• Enhancement of productivity and product range by introducing new products.
• Continuous training and development of the employees' expertise
• Suppliers are selected on the basis of their competence to meet the defined delivery criteria
GUMAPLAST VP management's continuous concern with satisfying the employees' humane and material needs.
The top management of GUMAPLAST VP regularly reevaluates the efficiency of its QMS and its quality goals with the aim of ensuring their effectiveness and constant compliance with the current business activities.
In order to achieve these goals GUMAPLAST VP applies the efficient Quality Management System which meets the demands of SRPS ISO 9001:2008.